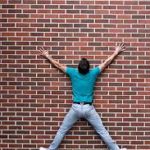 The most expensive element of marketing is gaining new customers. First, you need awareness of your business and what you do. Second, creating and communicating your competitive advantage. Finally, converting that consideration into activation. Three steps before any revenue is created.
That's why sticky customers are so valuable. Those who already know your product and value and will continue to bring sales over the years. So, what are you doing to enhance your "stickiness"?
1. Be a Hero! Great customer service is dying, especially in retail. Engage and help your customers. Be a solution to their problem. If you have a retail store, greet your customers and ask what they are looking to buy. Not only does this allow you to help guide them (solution) to solve their needs, it also offers a chance to build the ticket with other items to complete their project, ensemble, etc.
2. Keep the conversation going. Contact them after the sale to ensure satisfaction. If they have an issue, solve it! Everyone has a story about how a company ignored a problem after purchase of a product, or worse.
3. Develop some sort of loyalty program. It can be a points system, special pricing, special offerings, appreciation party. Find an impactful, appropriate program that works for your product category. As you develop it, ensure that it has value and helps lead to incremental sales. It's part of loving your customers.
4. Ongoing subscriptions. Can you create an offer that allows monthly/weekly ongoing purchases? Presell that offer for 6 months/one year/automatic renewal and generate ongoing revenue!
5. Create a newsletter. By having an ongoing messaging, you stay fresh in your customers mind. Otherwise they can be swayed by a competitor, or simply forget about you (people have busy lives!). But commit to regular messaging. Many times, a company starts the newsletter and then it dies because other issues come up. Assign this responsibility to a reliable creative person, or outsource it. Make it entertaining as well as informative. Don't forget an offer to generate return traffic.
These are a few idea starters. It will work best after an analysis of your business trends and a strategic marketing plan to sell your best features and most profitable programs/items.
This is guaranteed the most profitable marketing you can do…maintain your customers and continue activating them.
Boost Business… Strategic Marketing.