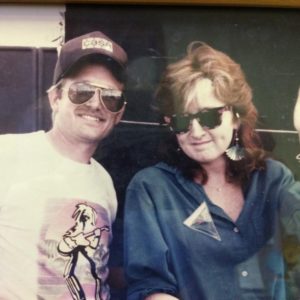 It was a sunny summer day in Austin Texas on the banks of the Colorado River, at Auditorium Shores when I met this redhead with a great blues voice who could shred that slide guitar. Bonnie Raitt was in a slump, professionally and personally. Columbia records had dropped her from the label, she was drinking, etc. too much (it was the 80's). But Bonnie soon made a fabulous comeback, on her terms.  She "gave 'em something to talk about".
This great song from Bonnie Raitt is also a lesson in promotional marketing.
Some tips for creating noise about your brand.
Don't be normal. Be creative. Media outlets get tons of submissions. You had better be entertaining and give them a reason to follow up. Example: A client in Texas – The Flying Pizza Company. We created an event to launch the world's largest flying pizza, it would be unmanned, as the initial flight was too risky for a pilot. The 54 inch pizza was launched from a roof across from the UT campus. The event garnered local press and coverage from the top rated TV station, they were looking for quirky stories! The result was thousands of dollars in coverage for minimal costs.
Be Bold. Follow the mantra-'go big or go home'. Example: Pepsi was a constant underdog in the Atlanta market (Coke's home town). So …  let's give away a house! Game pieces were printed inside Pepsi 12 packs, a local realty company put up a house in return for the publicity. We had a television co-sponsor for media coverage. 12 people qualified for the ceremony where each got a key, one of which opened the door to their new home. Pepsi garnered a ten point market share increase, huge!
Leverage a stronger partner. Tie in's with organizations with larger, loyal followers will create added impact for your brand. Example: Georgia-Pacific's consumer paper brands were secondary in market share and shelf space to their larger competitors. The Sparkle brand reached out to the Country Music Association for a co-promotion. Consumers were solicited to write four lines of a possible country song, with the word "Sparkle" in the lyrics. The winner got a trip to the CMA awards in Nashville, plus a recording session where their lyrics were turned into a full country song and recorded for them. Again coverage was terrific and we received increased displays in grocers across the South.
Above all, reinforce your brand. Make sure the program fits your brand and reinforces your competitive positioning.
Ready for some Rocket Fuel? We are ready to Boost your Business. Let's talk.